Unexpected Applications of Metal Carports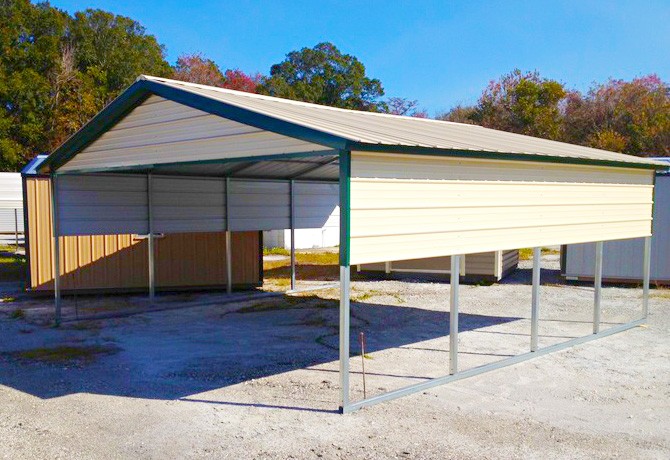 Metal carports are primarily for storing and keeping your cherished automobiles secure. Carports, unlike garage systems, are prefab and can be installed in less than a day. They are low-maintenance, inexpensive, and adaptable. But, other than parking automobiles, did you know that metal carports may be helpful in various ways?
Uses of Metal Carports
Metal carports are also excellent storage areas for various equipment, goods, tools, and supplies. If you don't have a designated space in your home for these items, purchasing a carport is a fantastic choice. It is unnecessary to have a bespoke shed or a full-fledged concrete house built from the ground up. Metal carports provide more than simply vehicle protection. In reality, you may utilise a galvanised steel carport for everything from saving money to creating an outdoor living space in your home.
Metal carports are not just helpful in protecting your cars and heavy vehicles from extreme weather conditions but provide you with extra storage space and add value to your property. Steel carports are more sturdy, reliable, affordable, and easy to customise than traditional carports. Metal carports are also helpful for storing and protecting your boats, RV's, and other heavy vehicles. 
Store Equipment
If you have a yard or own a lawn care service, you should keep your mower, weed whacker, and fertiliser somewhere dry. A metal carport may be helpful to store your equipment to stay dry and accessible. It is preferable to becoming buried in the back of your metal garage — and we all know how unpleasant it is to dig your wheelbarrow or landscaping equipment out of a cluttered garage.
Covered Storage
You may have objects that need to be kept out of the elements but do not necessitate fully enclosed storage. For example, a carport would be an excellent choice for storing those products. However, it is frequent in agricultural businesses where various supplies and materials must remain dry but take up too much room inside a garage or metal barns.(Metal barns are significant steel structures helpful in storing agricultural, livestock, and farming materials.)
Workshop
A metal carport may convert into a specialised workshop. The adaptability of this modest yet handy shed would be appreciated by handymen, engineers, artists, and tinkerers of all types.
Shelter Your Pets
If you have pets like dogs or cats in your house, you may want to keep them indoors. They create a mess of any section of the house unless they've been proper training and bite and rip things apart. Keeping them in a kennel all day may not be the best option because pets need to walk about freely.
In a carport, shelter your family pets, whether cats or dogs, allow them to walk about freely. Not only that, but you can store toys, crates, and mattresses all in one area. You won't have to worry about cleaning up after your dogs indoors because everything can be done in a single, easy-to-clean, and maintain the spot.
Club House
A metal carport may simply be helpful as a cover for a deck or patio, much like a dim party room. This roofing does more than giving shade. For example, assume you have a hot tub that you like regularly.
Rather than covering the hot tub with a heavy lid after each use, a carport canopy will ensure that your tub is close. Decks furnished with grills, tables, and outdoor kitchens protect the weather without compromising the open-air experience.
Green House
Anyone wanting to build a greenhouse would enjoy the carport's versatility. Although it is has a closed roof to protect automobiles from physical collisions, you can customise it with glass roofing or other material. It guarantees that any plants, flowers, or gardening initiatives may flourish within the confines of the room.
Conclusion
Metal carports may be useful to suit practically any "shelter" need you may have. A metal carport is a cost-effective and practical method to achieve precisely what you want. Not only are they long-lasting and cost-effective, but they also feature a variety of design options, such as structural style, colour, windows, and doors, that you can tailor to match any environment.