Detailed Comparison Between a Metal Garages and Traditional Wood Garages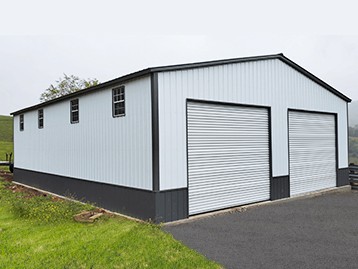 Before you commit to purchasing a detached garage, you should consider if one of the metal garages or a standard wood garage is preferable for you. Metal garage kits have grown in popularity over the last 60 years due to their low cost and ease of maintenance, but wooden garages have maintained their position as the ideal choice for custom projects.
In this post, we will discuss the advantages and disadvantages of both materials so that you can make an informed decision between the two types of garages.
Which building structure is more cost-effective?
Money is important when purchasing a large purchase. A detached garage will provide extra storage and workspace for your house or business, but the investment must make financial sense
Metal garages can be built for a lower cost than other construction techniques. This is because steel is an economical building than wood. Metal garages could be built fast and do not require roughly the same level of maintenance as wooden structures.
Prefab steel garages are less expensive and faster to construct than wooden garages. Most of the metal garages are steel prefab garages, which means that their basic components are already manufacture in a factory. Overall, metal garages are an excellent alternative if you need something affordable and convenient. The more building you can perform on your own, the more money you will save.
Which structure is more attractive?
A metal garage is an excellent choice if you want a modern and practical appearance. Individuals that like a more classic and personalized style, on the other hand, frequently prefer wooden garages.
A metal garage is very often useful when you need a cost-effective, long-lasting place to keep seasonal products, commercial goods, and huge supplies. You don't need a custom brick building that costs significantly more for these demands, but you do need function, sturdiness, and safety for long-term use.
Which is more weather-friendly?
Both steel and wooden garage can keep your valuables safe from the elements and intruders, but metal is the more durable option. Simply put, metal is a stronger substance than wood. Metal garages can survive heavy snow loads and adverse weather, and they are much more difficult to break into than timber garages.
Install a security system on your house for added peace of mind. This precaution will offer peace of mind and safeguard you regardless of the style of garage you buy.
When it comes to environmental considerations, metal garage kits have a lot of advantages. Because steel is a highly recyclable material, it can be recycled later. Metal garages also last for a long time, requiring minimal replacement. Metal is a conductor by nature, so it can get cold and hot rapidly, but it is simple to insulate to increase its energy efficiency. If you require a workspace, this modification might make the metal garage kit more suitable.
Which Structure is More Customizable?
A prefab metal garage often comes in a limited number of options, but you can usually select from a variety of colors and sizes. This ease of use contributes to the steel garage's low cost and ability to be mass-produced in a factory, saving consumers money and time. People who require a custom garage frequently choose wood.
With wood garages, you can choose a greater range of colors, siding styles, roofing, finishes, and more. These projects are frequently built from the ground up using unique plans from a builder and are intended to blend in with an existing property.
Wood
Wooden building techniques, which do not necessitate as many specialized tools, are becoming more popular among do-it-yourselves. The wooden frame, on the other hand, takes time to make because it is made from scratch. Unlike metal garage kits, wood garages do not contain premade panels. Wooden frames must be constructed piece at a time, which takes longer and labor.
Metal
In comparison to timber garages, an external metal garage requires very little internal support. The entire procedure of constructing a time-consuming frame is avoided, allowing contractors to concentrate their time on other duties.
Metal garage kits, on the other hand, are more difficult to set up for the average individual because they may necessitate the use of specialist tools. If you don't have any technical knowledge or tools, you can choose professional installers at checkout, which will deliver professionals to your door.
Wood –
Although wood is a sturdy material, it is less robust and has more drawbacks than metal. Because wood is organic, it must be properly care for to avoid rotting, vermin, mold, or fungus damage. To retain its lovely appearance, wood must be stain or paint. To prevent rot, fungal, or insect infestation, wood must be maintain on a regular basis. Every few years, wood should be painted or stain. However, unlike metal garages, it does not require inside condensation treatment.
Metal –
When it comes to durability, this material comes out on top. Metal garages have an average life span of 20-30 years, but with proper care, they can last much longer. This substance is also impervious to rot, termites, and fire. However, it is critical to keep an eye out for water gathering or condensation, which can lead to rust. Coat the walls of your metal garage with a particular solution to make them water-resistant to prevent inside condensation damage.